2018 Wine Masters' Dinners

Usually, the Last Sunday of the Month from 5 - 8 PM
3-4 course dinner with paired wines. 65 - 85 PP
Reservations Required - Limited seating to ensure that Adam can deliver the goods....literally. Adam and the local Wine Masters team up to provide a 3 - 4 course paired dinner experience. The Wine Master pours your wine and Adam serves the paired dishes. Both take the time to describe their offerings, answer your questions, and just chat for a while.

21 January - Kief Manning from
Kief Joshua Vineyards
(
menu
)

25 March - Mark Jorve and Rhona MacMillan from
Zarpara Vineyard
(
menu
)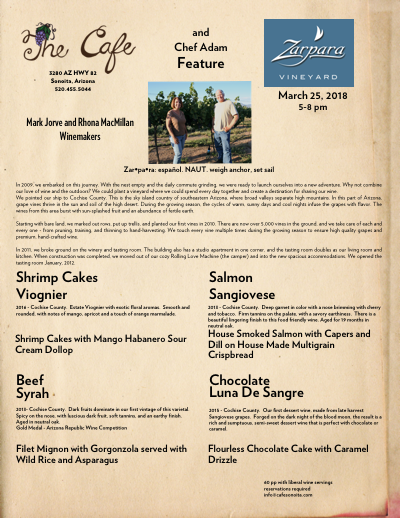 28 July - The
Flying Leap
Wine Makers, Mark, Marc, Kitch, Rolf, and Rose from 5 to 8 PM at The Cafe. (
Menu
)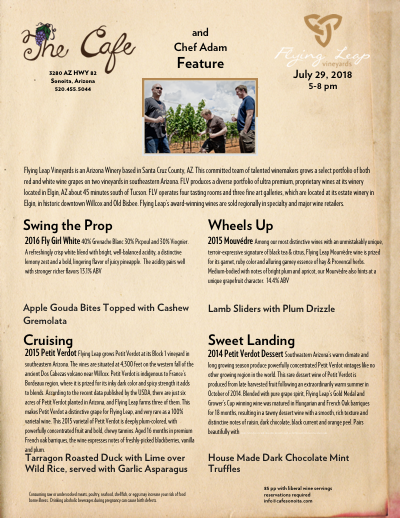 Holidays

14 February - Valentine's Day
(
menu
) This is a special Wednesday night dinner. 5-8 PM, reservations recommended.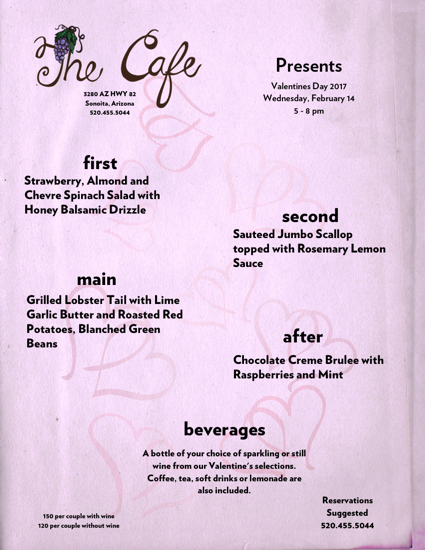 13 May - Mother's Day


Jim's Amazing Front Porch Show

Every Thursday from 5-7. We are on the patio if the weather is nice and inside if the weather is uncooperative.
Reservations recommended.


Catering
For something a little different or comfortably traditional, call or send us a
catering request
and we will coordinate something just for your celebrations!


APE Yourself

continuous (may be suspended if we are too busy to do it right)
Add a touch of APE adventure when you don't really know what your tastebuds are demanding. Just ask your server to "Go APE"